If you can't choose Collection from the delivery options, it's probably because your product or order is:
a large appliance over 30 kg
or it's classed as a dangerous or poisonous good, for instance detergents or strong cleaning products.
Products delivered by Digitec Galaxus or third party suppliers
If a product can't be collected from one of our stores, we make sure to include that information in the product overview.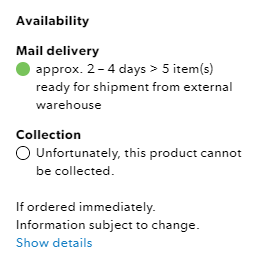 That's why you won't be able to choose the Collection option at the checkout if you have one of these products in your cart.